Magento Experts, Designers, Developers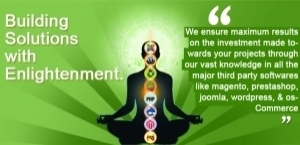 Magento Experts For Custom Ecommerce Website Design, Customization, Migration And Development In Magento,Joomla,Prestashop,Zencart & Wordpress Applications.
We Build content managed websites, which run on wordpress or joomla softwares, our ecommerce solutions are built on magento and prestashop, we are experts in customizing functionalities and custom building modules. Our solutions are tailor made to suit any industry specification, we build bespoke websites and custom webapplications.Our expert website designers and developers have matured from developing simple ecommerce shopping cart solutions like oscommerce to complicated ecommerce softwareslike magento! Our ecommerce specialists can build a ecommerce website with minimuminvestment, which can produce maximum ROI for the clients.This Ideology of ours has helped us in building long-lasting relationships with ourclients and partners based in Australia, UK, Singapore, Denmark, Netherlands, India,Germany, and USA.